I Entered My First Poker Tournament Yesterday
Mood:
party time!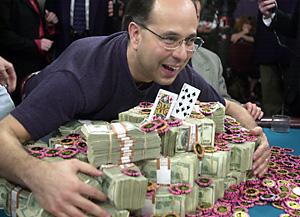 That's not me winning the tournament. It was only for $526.00. I didn't win that either.
With $7200 worth of play money, I goofed and went "all in" with two pair against three of a kind. I just didn't see it coming.
Well, I learned my lesson and finished in 46th spot out of a field of 275. I even walked away with $3.00 in prize money.
I'm getting better, but I'm not ready for "prime time poker" yet.

Posted by qualteam at 5:30 PM EST