Canada's Greatest Hero: Terry Fox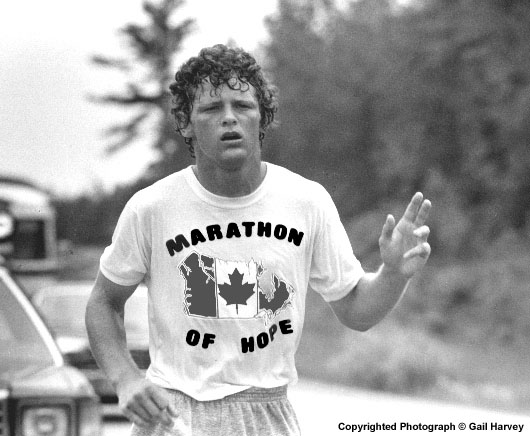 Actually, in a documentary done a few years ago for the CBC, Terry Fox finished second in polling for the greatest Canadian, right behind Tommy Douglas, the father of our health care sytem, but in front Prime Minister Pierre Trudeau who repatriated our constitution from Britain to Canada.
Terry was a warrior not against communists, terrorists or the nazis. He was a warrior against the most hated disease on earth, cancer.
I'll always remember his face on television filled with pain and determination.
Not only his actions were inspirational, but his words as well. His marathon wasn't just another marathon. It was a "Marathon of Hope". He firmly believed that "one person could make a different in this world in the fight against cancer". He also believed that "there would come a time when the suffering would end."
For the first few years, I ran "The Fox 10k Run" with my own "Marathon of Hope T-Shirt". I collected money for cancer research and over the next 26 years 400 million dollars was collected from Terry Fox marathons around the world.
Much headway has been made in the fight against osteosarcoma and cancer since then (1980).
I think it's fitting that Canada's too biggest heroes (i.e. Terry Fox and Tommy Douglas) fought against something that attacks almost every human being, ill health through cancer and unaffordable health services.
Posted by qualteam at 6:43 PM EDT
Updated: Sunday, 16 September 2007 7:19 PM EDT