What Time Are You In?
Reality seems to have three time zones connected to it.
1. Old Universe Time(The time from the beginning of the universe to now.)
2. New Universe Time(The time from the birth of Christ to now.)
3. Eternal Time(An area of "time" which exists outside of normal or abnormal time.)

There is much that could be written about each time zone. If you have any personal insights into this subject, I would appreciate your feedback.
Please send me a communication.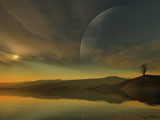 Posted by qualteam at 11:50 PM EST
Updated: Saturday, 4 March 2006 11:55 PM EST