Number One At The Box Office: Underworld
Despite the poor reviews and overly familiar subject matter, "Underworld", the vampire-werewolf flick finished ahead of the pack by a good margin.
Audiences are still seeking thrills, chills and spills from any movie that has a horror/fantasy genre or subgenre. The real world can only take you so far. Other imaginative netherworlds can take you further.
More Reviews Of Underworld
Just imagine how far you can go through the black hole at Hotel California.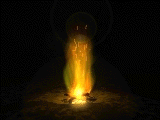 Posted by qualteam at 9:44 PM EDT
Updated: Monday, 22 September 2003 9:51 PM EDT