Movie Review 120: Enchanted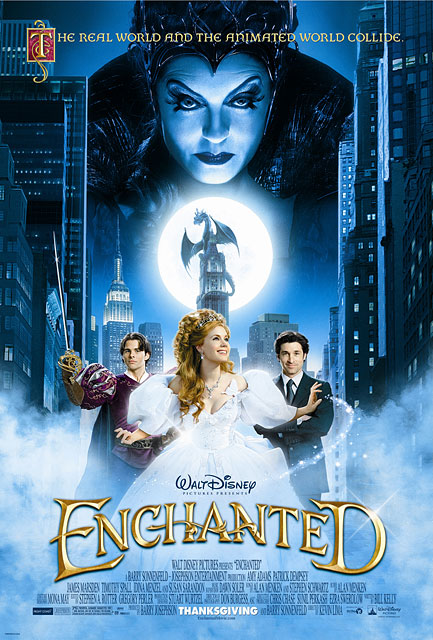 "Enchanted" is a mishmash of different Disney fairy tales from Cinderella to Snow White to Sleeping Beauty, etc. Changing the location of these fairy tales from cartoon fantasy land to New York City was an interesting idea at first, but the whole cold reality of planet Earth quickly changed into the exciting two dimensional world of witches, spells, dragons and princes.
The conflict between the "real world" and the "fantasy world" never really happened which was a shame.
Of course, the special effects and music numbers were great, especially, the musical number done in Central Park, but the story never went beyond its sources in Disneyland and childhood mythology. Fantasy in Cartoonland and fantasy in New York Land seemed to amount to the same thing.
The cartoon characters were never challenged about the reality of their existence in the Big Apple and I found that lack of obvious conflict disappointing. I give the movie two and half stars, but most critics were generous in their praise of the film.
Posted by qualteam at 11:13 PM EDT
Updated: Tuesday, 22 April 2008 11:18 PM EDT