Canada Post's Corporate Team Incentive Delivers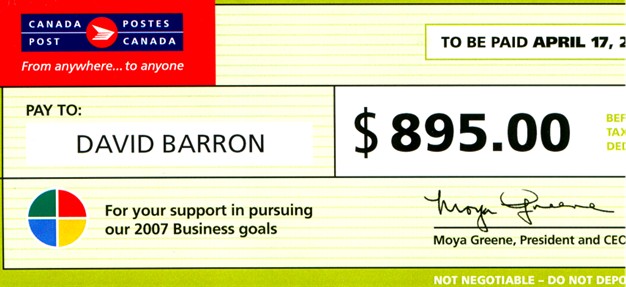 For the first time in the history of Canada Post, the membership in the Canadian Union of Postal Workers(CUPW) will be receiving a Corporate Team Incentive Bonus . It's only $895.00, not as much as I thought it would be, but it's a big change from "no bonus for 150 years".
I must point out that management has been getting a bonus for over 15 years, so I fought hard last year against CUPW opposition to it and finally, the union membership did accept it.
There is more information concerning the Corporate Team incentive on my CUPW website at http://www.cupw.info. Have fun checking out my history in CUPW and the anti-war songs on the website.
Below is Canada Post's spin on why the CTI wasn't in the 100% range:
"2007 was a tough year with aggressive target goals. Although we didn't reach several targets, we exceeded those in key areas such as Lettermail delivery, reducing pay defects and lowering cost of operations. The Corporate Performance results and bonus rate for 2007 have been approved by the Board of Directors. Some key targets were met at threshold level, at target, or exceeded. The bonus will be paid to eligible employees on April 17, 2008 at a rate of 63.75% of their respective bonus levels".

Posted by qualteam at 10:47 PM EDT