It Was A Great Canadian Idol Finale Tonight
Mood:
a-ok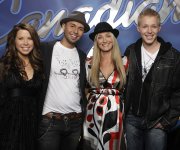 What a difference a day makes. What a difference Jon Bon Jovi and Eva Avila make. What a difference a loose Jaydee Bixby makes.
With material like "Johnny B. Goode" and "That's Alright Mama", Jaydee rocked the house and all of Canada. Unfortunately, the audience voted on his nervous performances from yesterday and he was designated as the worse of the two finalists. The other one, Brian Melo was voted Canadian Idol.
I'm not a big fan of Brian Melo. While he does have stage presence and great intensity (mostly sadness and pain), he has a tendency to sing all his ballads in the same way. Soft at the beginning and loud/raspy during the chorus. It's highly likely that audiences would tire of listening to him after awhile.
There's no penalty for finishing second in this competition. Look at the careers of Clay Aikin and Katherine McPhee.
I'm looking forward to hearing some good country songs from Jaydee.
Posted by qualteam at 10:11 PM EDT
Updated: Tuesday, 11 September 2007 10:54 PM EDT