The Canadian Idol Competition Comes Down To Two: Jaydee Bixby Vs Brian Melo
Mood:
down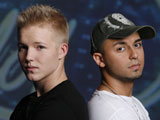 This wasn't a competition of who did the best. It was a competition of who did the worse.
Personally, I've been in karaoke contests that were much better than this finale.
Jaydee did reasonable impressions of Bon Jovi, Tom Jones and Jaydee. However, he looked nervous in every song which detracted from his performances. The best that you can say about him is that he tried to be entertaining/energetic and sing songs of different genres.
Brian Melo, on the other hand, sang all of his three songs in exactly the same way and in the same style. If you heard one, you heard them all. On the high notes, he shouted and his voice became raspy. This would be ok if he was singing heavy rock songs, but the guy was doing ballads.
In the competition of who did the worse, Brian Melo wins hands down.
The most memorable comment was Zack saying that he'd manage "Jaydee any day in some sort of Branson show".
It should be noted that Jaydee was well down the list of the judges' favourite singers.
Posted by qualteam at 10:29 PM EDT
Updated: Tuesday, 11 September 2007 10:57 PM EDT