One Man's Subprime Junk Is......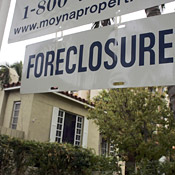 In the topsy-turvy world of finance, just about anything can be a "security". Securities, basically, are candy coated financial paper of something that's worth less than it looks.
In the wonderful world of subprime finance, mortgages are assets that can be bought and sold for a profit. If that doesn't happen, there's always BANKRUPTCY.
It's remarkable that so many get caught in these irresponsible lending practises that disguise a borrower's credit record by starting him/her at ludicrously low interest rates and raising them up much higher later.
Fortunately, most people in the U.S. are responsible with their lines of credit and don't need to bailed out or to go bankrupt.
In financial matters avoid fear, greed and stupidity.
Posted by qualteam at 10:04 PM EDT
Updated: Tuesday, 21 August 2007 10:29 PM EDT