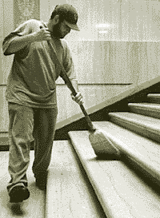 Before I started in the Post Office, I worked at many things. Some were temporary minimum wage jobs like the one above.
I was also fired from five positions for the most specious reasons: "The boss didn't like my face. I was too slow. I was talking about stuff that I shouldn't have been talking about. I was late a few minutes too many times in a month. A supervisor smelled beer on my breath."
While I've had attendence interviews at the Post Office, I've never been fired or suspended. Very seldom have I been harassed by a supervisor and when I have I let him/her know in no uncertain terms. After that, they back off in order to avoid further confrontation.